Health & Safety Signage
Prominently Display Safety Info with Signage


From floor decals and window clings to wall-mounted signs and stands, provide employees and customers with the health and safety information they need at your place of business. Your Safeguard Advisor can help you choose all the right options for any location.

Most Popular Health & Safety Signage
Floor Decals
Encourage social distancing and indicate traffic flow with the use of floor decals
Place your floor decals at entrances, exits, checkouts, lobbies, elevators, and anywhere a visual reminder is needed to ensure proper social distancing is maintained
Floor decals can be customized with your design and logo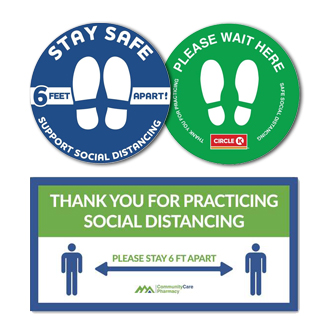 Select to View Image
Social Distancing Floor Decals
Directional Floor Decals
Custom Floor Decals
Mounted Signs
Clearly communicate expectations to customers and employees, such as wearing a mask, social distancing, unavailable seating, and more using mounted signage
Hang your signs in entrances, restrooms, breakrooms, and anywhere you need to share health and safety information
Your Safeguard Advisor can help customize your signs to fit your business needs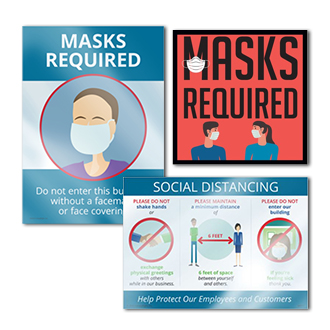 Select to View Image
Window Clings
Posters & Wall Signs
Banners
Aluminum Signs
Labels & Stickers
Freestanding Signs
Share the measures your business is taking to keep employees and customers safe with freestanding signage
Add your signage to inside and outside areas as a reminder of the precautions your business is taking
Signs can be customized with your design and logo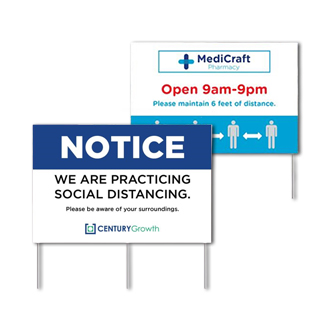 Select to View Image
Yard Signs
A-frame Signs
Barricade Covers
Retractable Banners
Seat Unavailable Signs
Flutter Flags
*Some products and services may have limited availability and may not look like the images shown on this website. Contact your Safeguard Advisor for more information regarding pricing and availability.