Laser Business Checks
Unbeatably Safe, Guaranteed Compatible.


Premium Secure business laser checks offer the industry's highest level of protection with multiple layers of security features. Plus, our computer checks are compatible with your accounting software. Many other types of laser business checks are also available. Call your advisor and take advantage of more than 50 years of check know-how.

Most Popular Laser Business Checks
Blank Laser Checks
Safeguard offers the quality, consistency and security you need to print your own blank computer checks
Manage all your accounts with a single check stock and save money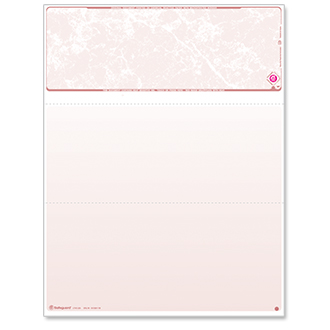 Select to View Larger Image
Blank Laser Top Check with Stubs SFSL1MMV1N
Blank Laser Middle Check with Stubs SFSL2G1N
Blank Laser Bottom Check with Stubs SFSL3T1N
Blank Laser Check, 8-1/2 x 14, 2 checks with Two Stubs SFSL7R1N
Microsoft Business Solutions (Great Plains®)
Software compatible Microsoft Business Solutions Checks are available in the exact format you need – multi-purpose, payroll or accounts payable
Premium Secure checks deter, detect and defend your business against check fraud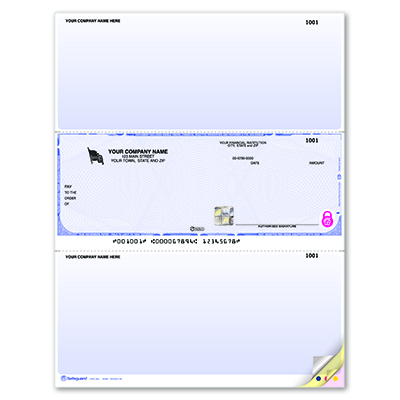 Select to View Larger Image
Premium Secure Laser Multi-Purpose Check SFMS01043
Premium Secure Laser Payroll Check SFMS01041
Premium Secure Laser A/P Check SFMS01042

Quicken® and QuickBooks® Checks
Available in a variety of formats to meet your business needs. Select single- or multi-part, with or without a stub.
Our Quicken and QuickBooks laser business checks are guaranteed to work with your accounting software

Sage Business Checks
Compatible with Sage 50, Sage 100 (MAS 90®/MAS 200®), Sage 300 (ACCPAC®), and Sage DacEasy®
A variety of laser business check formats for all your accounting needs, including multi-purpose, payroll and accounts payable
Rent Manager
Fully compatible with the Rent Manager Property Management software package
Contact your Safeguard advisor for complete details
Solomon® & RealWorld®
Manage payroll, accounts payable and daily expenses more efficiently with Safeguard laser business checks
Recordkeeping is easier with perforated vouchers,multiple parts and a variety of color options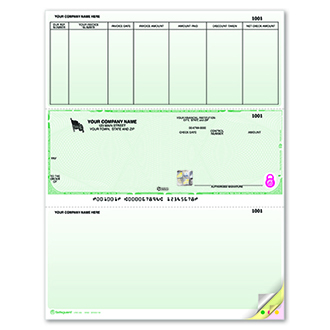 Select to View Larger Image
Premium Secure Laser A/P Check SFMS000927
Premium Secure Laser Payroll Check SFMS4011
Premium Secure Laser A/P Check SFMS1880DV
Premium Secure Laser Payroll Check SFMS2701DV
Check images are subject to change as we continue to enhance our manufacturing and security technologies.
QuickBooks and Quicken are registered trademarks of Intuit Inc. Sage, the Sage logos, and the Sage product and service names mentioned herein are registered trademarks or trademarks of Sage Software, Inc., or its affiliated entities. Microsoft is a registered trademark of Microsoft Corporation in the United States and/or other countries. All other trademarks are the property of their respective owners.