Quarter 1, 2021
Bring on the brand love with high-impact promotional products
Every time someone wears or uses your promotional item your business gets promoted. Greatly increasing your chance to win more business. Moving you closer to knocking out your competition.
While promotional products are still the most high-impact, cost-effective advertising medium available-every promo item is not created equal. Your Safeguard Advisor is an expert in providing quality branded apparel and promotional products that build credibility, reach prospective customers and increase revenue.
In today's climate, protecting the health and wellness of others is critical. 57% of people are more likely to do business with a company that gave them an imprinted mask. And that's only the beginning of how you can help give back to the public and your business.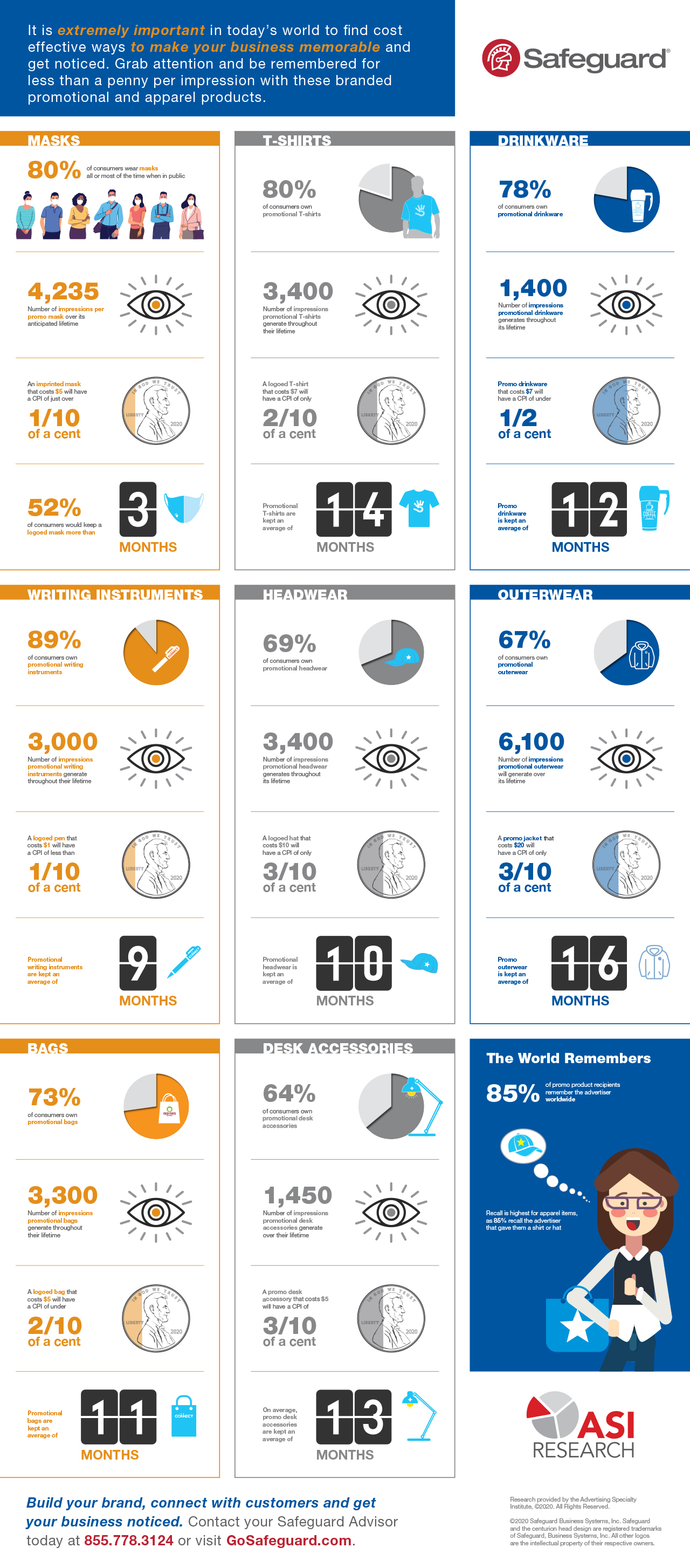 8 Outdoor Marketing Tools for Surging Spring Sales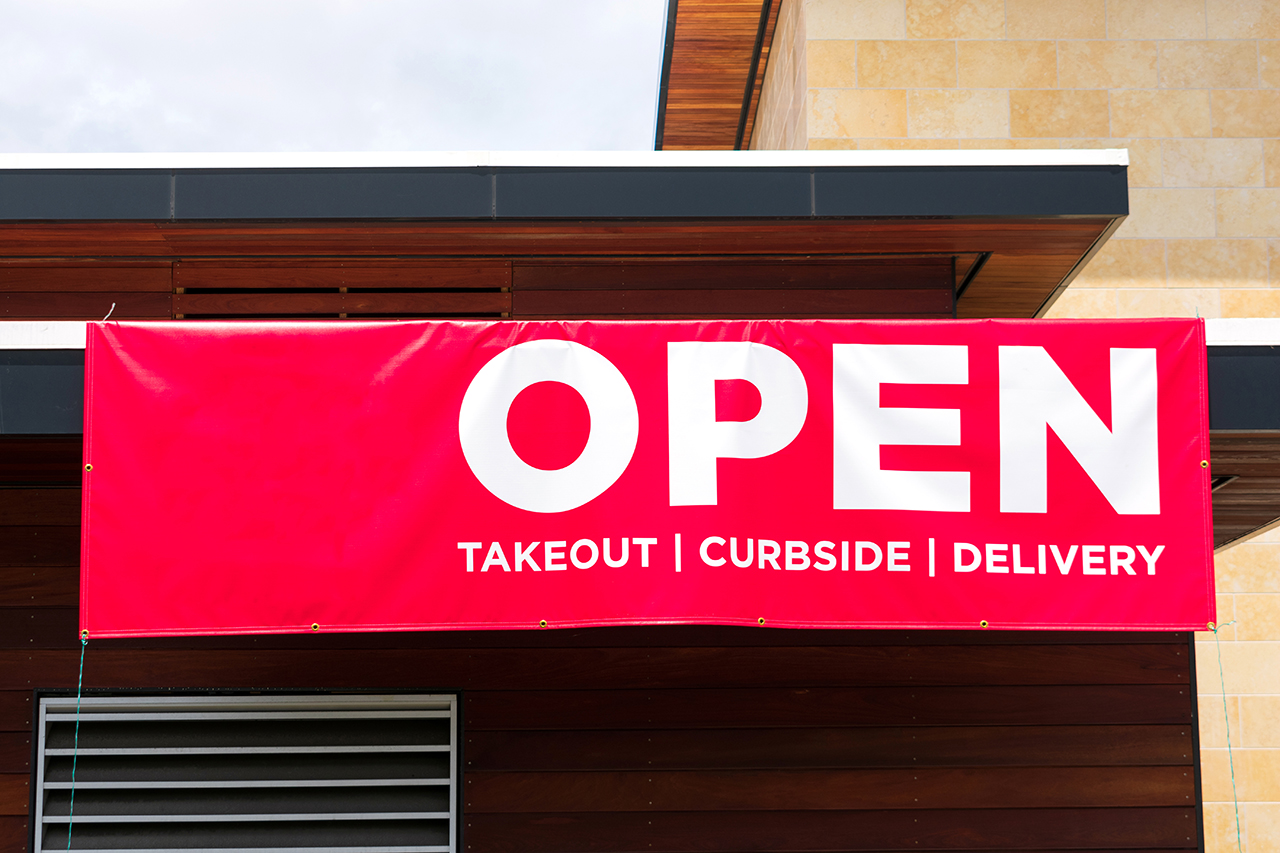 Spring is in the air and your customers are venturing out from under winter's thaw and into the great outdoors. Because COVID cannot control the seasons of our world. However, it has changed how you need to market your business to consumers. Make sure important changes due to COVID are communicated outdoors and easy to spot. How should you go about engaging that foot traffic and convert it into sales? Start with these eight outdoor marketing tools for surging spring sales-even in today's climate.
1. Banners
Banners are a fun outdoor marketing tool in the springtime, offering benefits including:
Large-format advertising people can view up-close and from a distance
Multiple placement options, from intersections to sidewalks, plus windows and walls
Huge exposure, reaching thousands of prospective customers each day
Banners are a low-cost print solution, making banner marketing a perfect choice for small businesses and corporations.
2. Door hangers
Gain ultra-targeted placement with door hangers to maximize your ROI. For instance, a painting company can place door hangers on homes due for a fresh paint. A real estate business can place them in neighborhoods where multiple homes are being sold. Your ability to decide exactly who sees your door hangers through specific placement can boost your potential for spring sales.
3. Posters
Posters were made for promoting exciting spring sales, festivals and gatherings. Get your posters up in prominent spots and frequented areas where customers will notice them. To minimize your investment, go with a short run of promotional posters without sacrificing your reach.
4. Wall graphics
Make interesting changes to an area by printing unique wall graphics your customers can't ignore. Look for opportunities to invest in a simple space where a property owner has an unused blank wall in a prominent outdoor location available. Oversized wall graphics are a fantastic way to stand out and gain exposure for your business this spring.
5. Window clings
Window clings were made for drawing in window shoppers into your business! It's a great way to tap into impulse purchases and motivate people to stop in for a quick shop—before they swing by one of your competitors.
6. Yard signs
Yard signs aren't just for people running for office. National brands have started using yard signs to earn even more exposure from small town venues. Perfect for local retailers as well as regional restaurants, yard signs give you the advantage of repetition through mass distribution that won't break the bank.
7. Stickers
Stickers are a fun and creative way to market your business in specific outdoor locations. There are so many different ideas when it comes to stickers to get people thinking about your brand. Find clever solutions to make stickers interact with people's environments: sidewalks, park benches, vending machines, light posts (be sure to get permission before sticking!). A cool outdoor sticker is quick to earn photo shares on social media. More great publicity for your brand.
8. Car door magnets
Take your business on-the-go with branded car door magnets. What's nice about car door magnets is they're not permanent or as costly as vehicle wraps. Plus, they're less expensive to print and can be switched out for seasonal spring sales. Boost your business by recruiting employees, family and friends to sport your snazzy car door magnets this spring.
Lean on your Safeguard Advisor for help with a wide variety of impressive brochures, attention-grabbing postcards, impactful sales sheets and much more-all in one place.
How to Personalize Your Marketing by Age Group
From a marketing personalization perspective, age truly matters. What better way to captivate and cater to your audience then through data-infused content specifically designed for them, by them. Did you know... 81% of consumers want brands to know them better and know when to approach them. Your customers are longing for you to connect with them on a deeper level. Learn what it really means to get up close and personal with data in order to personalize your marketing and boost sales.