Quarter 3, 2019
Seven "Christmas in July" Print Marketing Tips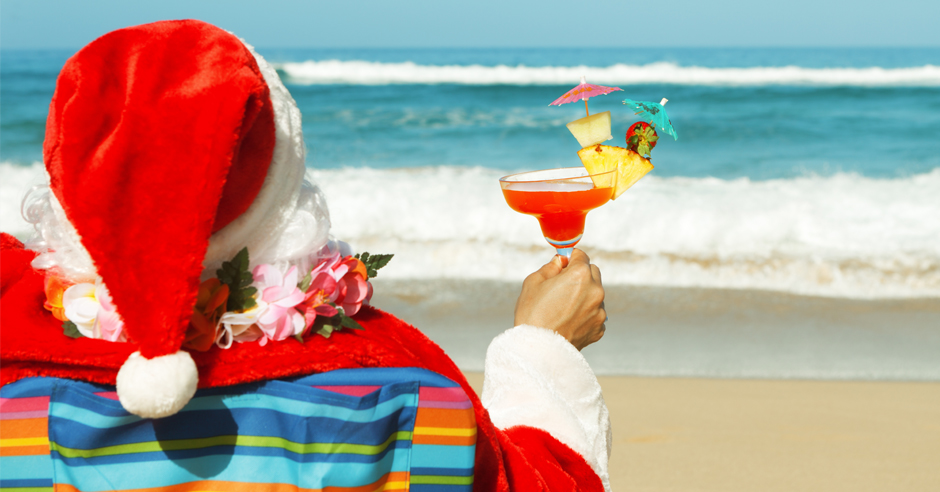 "Christmas in July" promotions are a great way to boost business, and they continue to increase in popularity. If you operate a restaurant, bar, tourist attraction or retail shop, you can cash in on the trend with a strategic print marketing campaign. Here are seven "Christmas in July" print marketing tips to help you get started:
1. Get people in off the street
You can print affordable vinyl banners and window clings, placing them in strategic high-traffic locations to promote your business to the masses. Or employees can hand out flyers to people passing by outside. Adding a discount coupon encourages response and lets you track your return on investment.
2. Partner with your local visitors bureau, chamber of commerce or tourism association
Local agencies get tons of requests for information. Reach out to these organizations and see if they'll let you insert a brochure or flyer into their mailers. You may need to pay a fee for extra postage and the like, but it's worth it: you won't find a more targeted direct marketing audience. Alternately, you can buy or rent mailing lists from local agencies and send direct mail yourself.
3. Cooperate with resorts and hotels
Ask local resorts and hotels about ways to get your marketing materials to their guests. Ideas include brochures and catalogs in hotel rooms and lobbies, flyers for front desks and discount coupon/business cards for concierges to hand out.
4. Print rack cards for tourist centers, hotels and restaurants
Most visitor centers, hotels and restaurants have rack card stands. Don't miss out on this excellent opportunity to reach potential customers. Print rack cards that stand out from the competition and add a discount coupon to motivate response and track ROI.
5. Showcase discounts with stickers and hang tags
Draw attention to your most profitable merchandise and exclusive sales. You can also print hang tags and stickers to promote upsells and cross-sells. For example, you might offer 20 percent off a hat with the purchase of a T-shirt. Never underestimate the value of point-of-sale marketing.
6. Take a cruise with car door magnets
Printing car door magnets and cruising through tourist hot spots is a great way to keep your marketing in the public eye. Plus, you can always move your marketing with the crowds in order to gain maximum exposure.
7. Boost sales with table tents
Restaurants can print table tents that feature special entrées, drinks, and desserts to influence additional orders and increase the average ticket. But you don't need to own a restaurant or bar to take advantage of table tent marketing. Simply partner with one of those businesses and print your own promo on one side of the table tent.
Contact your Safeguard consultant for more print marketing ideas that work in July and all year round.
Networking Follow-up: Eight Do's and Don'ts
There are networking opportunities everywhere, whether you're at a trade show, conference or chatting with someone on your commute. You need to make the most of every opportunity because you never know who you might meet. Here are eight actionable do's and don'ts for following up in a professional way after you've connected.
The Do's
1. Send an invitation to connect on LinkedIn in a timely manner and include a personal note. For example, "It was great meeting you at the ABC Event. I'd like to keep in touch about the possible partnership we were chatting about."
2. Use email to follow up on business cards you collected and remember to personalize the messages. Let people know ahead of time you'll be sending an email and make sure you have their permission to do so.
3. Try to follow up within a few days to a week of the event. This will help you stay top-of-mind with potential clients or business partners.
4. Take the time to research and understand what your contact's company does, if you don't know already. Consider extending an offer for a free demo or information session about your business.
5. Set a limit to the amount of communication. Do some testing to determine the optimal amount of touches that it takes to connect with someone. Refine your cadence and amount of outreach accordingly.
6. Keep your first email brief. Having to wade through too much information could turn off a potential business partner. The purpose of the initial message should be to re-establish a connection. You can go into greater detail once you set up a meeting or call.
7. Include a link to your personal or business LinkedIn profile within your email signature to make it easy for people to connect with you.
8. "Like" a business you're interested in on Facebook or Instagram and follow that business on LinkedIn and Twitter. When you do, the business or owner may follow you back.
The Don'ts
1. Don't send a LinkedIn invite to every person whose business card you collect. You should have a meaningful conversation with someone before sending an invitation to connect.
2. Don't buy a list of event attendees and email them all. This is a violation of the CAN-SPAM act. Plus, it's certainly not the best way to start a professional relationship.
3. Don't wait too long to follow up with a contact. Time flies after events, and it's easy to forget all of the people that you might have met.
4. Don't go on and on about your company without understanding whether it's a good fit for the person you're reaching out to.
5. Don't call or email multiple times if you don't get a response. If you don't hear back, that's a sign that you should be refocusing your attention elsewhere.
For more about establishing and maintaining effective, business-like connections via social media and email, contact your Safeguard consultant.