Quarter 4, 2018
Is Facebook still good for business?
Reports of the misuse of Facebook user information by data analytics firm Cambridge Analytica has been widely covered in the press. Do concerns about privacy and data security have you wondering if social media is worth the risk for business owners? Here's a look at some reasons why it makes sense, steps you can take to protect your account and data, and a final verdict on whether it still makes sense to use Facebook — and other social media platforms — for your business.
Why marketing your business on Facebook makes sense
1. Lots of people are on Facebook
As of fourth quarter 2017, there were 184 million daily active Facebook users in the United States and Canada. Even if some of those users delete their accounts due to recent privacy concerns, it's likely that number will remain well above 150 million users. Facebook helps you connect with this massive pool of potential customers.
2. People spend time on Facebook
Not only does Facebook have millions of active daily users, but those users are also spending a significant amount of time browsing the social network — an average of 35 minutes per day. And that's good news, because the longer users are on Facebook, the more likely they are to come across your posts or business profile page.
3. Using Facebook is inexpensive
Setting up a Facebook profile page for your business is free. Meanwhile, using paid Facebook advertising can be relatively inexpensive as well, $0.58 per click on average. At that rate, if you spend $58 on Facebook advertising, your ad will receive roughly 100 clicks, which means 100 opportunities to sell your product or service.
How to protect your business on social media
While social media platforms, such as Facebook, are helpful, they come with their fair share of challenges. Here are three easy ways to protect your business:
1. Get to know your privacy settings
Every social network has privacy settings you can adjust, so it's up to you to learn how they work and how they can keep your business safe. That said, you probably don't have to be as stringent as you might be with your personal accounts. You want to get your business noticed on social media by as many people as possible.
2. Don't fall for scams
This rule applies to the internet as a whole, including email and browsing the web. If a link looks suspicious, don't click it. If you do, your account could be hacked or, even worse, malicious software could be installed on your computer. Each year, scammers become more and more sophisticated, creating enticing links and pages that look like the real deal. If you ever have doubt, however, it's better to be safe than sorry.
3. Minimize human error
Some privacy breaches are the result of human error. Maybe an employee accidentally shares too much confidential information. Or, someone unwittingly clicks on a malicious link while logged into your business's social account. To help avoid these situations, train your employees on the right way to use social media.
Final verdict: Should your business stick with Facebook?
While the privacy concerns surrounding Facebook are well-founded, the benefits of using social media to promote your business outweigh the risks. The company recently announced its plan to invest $1 billion this year in programs for businesses — an amount nearly equal to its investment over the past seven years. Facebook is also conducting a 30-city tour called Community Boost, which offers free workshops for digital skills training for businesses. And let's face it, as the most popular social network in the United States, Facebook is a great platform for you to earn new customers while maintaining relationships with current ones.
If you make an effort to learn the basics about social media privacy settings and partner with a team experienced in social media management, Facebook and the other social sites can be powerful tools that will help you meet your business goals. Some may think using Facebook is a mistake, but ignoring one of the most widely used and influential forms of communication of this generation would be the real mistake.
Enhance your marketing plan with these
three essential promotional products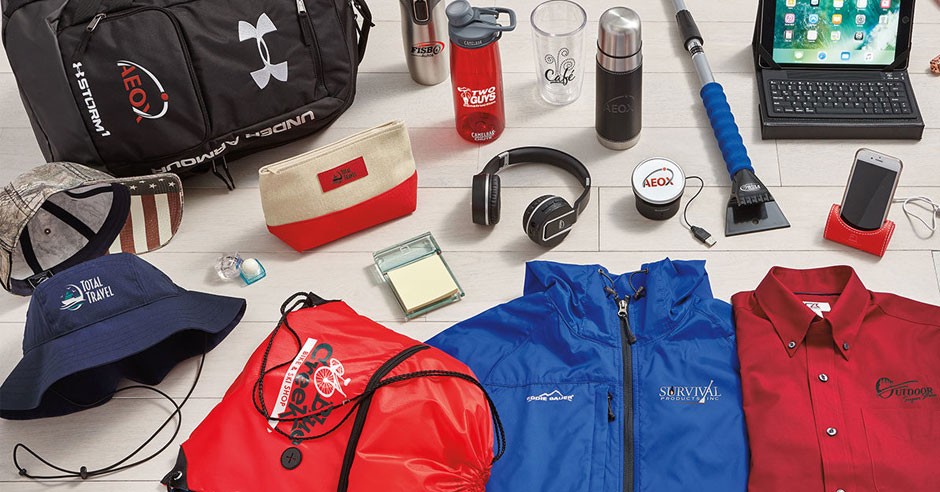 Promotional products increase brand recognition and can keep your business top of mind for months, if not years. Even if recipients aren't ready to buy right away, a pertinent promo item can help them remember you when it's time to make a purchase. Here are three promotional products great for publicizing your business, organization or event.
Pens
If you want to put your brand in someone's hand, a pen customized with your logo is the way to do it. According to Advertising Specialty Institute, 50 percent of U.S. consumers own promotional writing instruments. Pens are affordable and applicable to all industries, and you have plenty of options:
Plastic pens are one of the most common giveaways. Click pens, grip pens or ballpoints are all good choices. If you want to be eco-friendly, choose pens made from biodegradable and recycled plastics.
Metal pens lend the impression of quality to your business or organization. Click, twist or rollerball metal pens are cost-effective, premium promotional giveaways that people will keep and use.
Stylus pens are perfect for writing on paper or navigating on a mobile device and will promote your brand while letting customers and prospects know that your business is tech-savvy and smart.
Tote bags
Whether shopping, bringing lunch to work, going to the gym, traveling to the beach or the pool, or packing toys and snacks for the kids, everybody needs tote bags. They're kept and used year-round, over and over, giving your brand the opportunity to be seen by thousands of people.
Cotton or canvas bags make perfect giveaways to employees and customers and are an excellent showcase for your logo and tagline. Plus, they're durable and washable, so it's marketing that lasts.
Jute totes, made of natural vegetable fiber, have a stylish, rustic look and demonstrate your earth-friendly principles. Jute totes are also extremely strong, making them perfect for carrying bulky items.
Nonwoven totes are soft, colorful and reusable. Made of a durable plastic material that has the look and feel of cloth, this tote option is incredibly lightweight and very affordable.
Drinkware
According to the National Coffee Association, 62 percent of Americans enjoy coffee every day, while the Tea Association claims more than 159 million daily drinkers. And, in 2016, bottled water sales topped 12.8 billion gallons. It's easy to see why promotional drinkware makes a such great addition to your marketing plan.
Coffee mugs featuring your logo keep your brand in mind. There are almost as many styles of mugs as there are coffees, including diner, classic C-handle, camper, and bistro mugs.
Tumblers and travel mugs are like little billboards for your brand. Plus, they last a long time, so they can effectively promote your business for years to come.
Water bottles are a refreshing way to promote your brand. Plastic bottles are the most affordable option while metal water bottles have the longest shelf life, making them ideal for long-term promotion.
Contact your Safeguard consultant to learn more about putting the power of pens, totes, drinkware — and hundreds of other promotional products — to work for your business.