Quarter 3, 2014
The Top 9 Ways to Protect Your Business from Check Fraud
One in four small business fraud incidents involve check tampering. But proven strategies and best practices can help minimize your risk of falling victim to this kind of theft. Here are the top nine:
Require Signatures When you order new checks, choose "signature required" upon receipt to make it harder for anyone who tries to intercept them before they arrive.
Store Securely Nearly half of all organizations don't recover any of the fraud-related losses they suffer.1 Storing checks in a safe, secure location with restricted access is a common-sense approach to check handling that can help prevent these kinds of losses.
Destroy Old Inventory All a check fraudster needs is a color copier and 60 seconds to start inflicting damage on your bottom line. Make sure you destroy your old checks and remove the temptation they provide.
Control Access Up to 30 percent of a company's employees will steal something at one time or another.2 Just like old check inventory, too-easy access to company accounts is a tempting target for fraud, so limit access to accounts payable areas and systems.
Require Passwords Less than half of small businesses secure documents properly, either in locked files or with password protection.3 Require your employees to use passwords that mix uppercase and lowercase letters with numbers and symbols.
Balance Daily A recent survey found that 26 percent of respondents had been hit by frequent check fraud attacks.4 Balancing your accounts daily will help you detect any abnormalities as soon as they occur.
Use Larger Type In order to make printed checks more difficult to alter, you should always use a font size of 12 points or larger.
Understand Your Liability Take time to learn more about your bank's policies regarding check fraud to understand how you're most vulnerable and where you have the most liability. Use what you learn to develop measures for protecting your business.
Use High-Security Checks The technology to prevent check fraud already exists. Advanced features within high-security checks make copying them nearly impossible and let recipients instantly test their authenticity. They may cost more, but they're well worth it.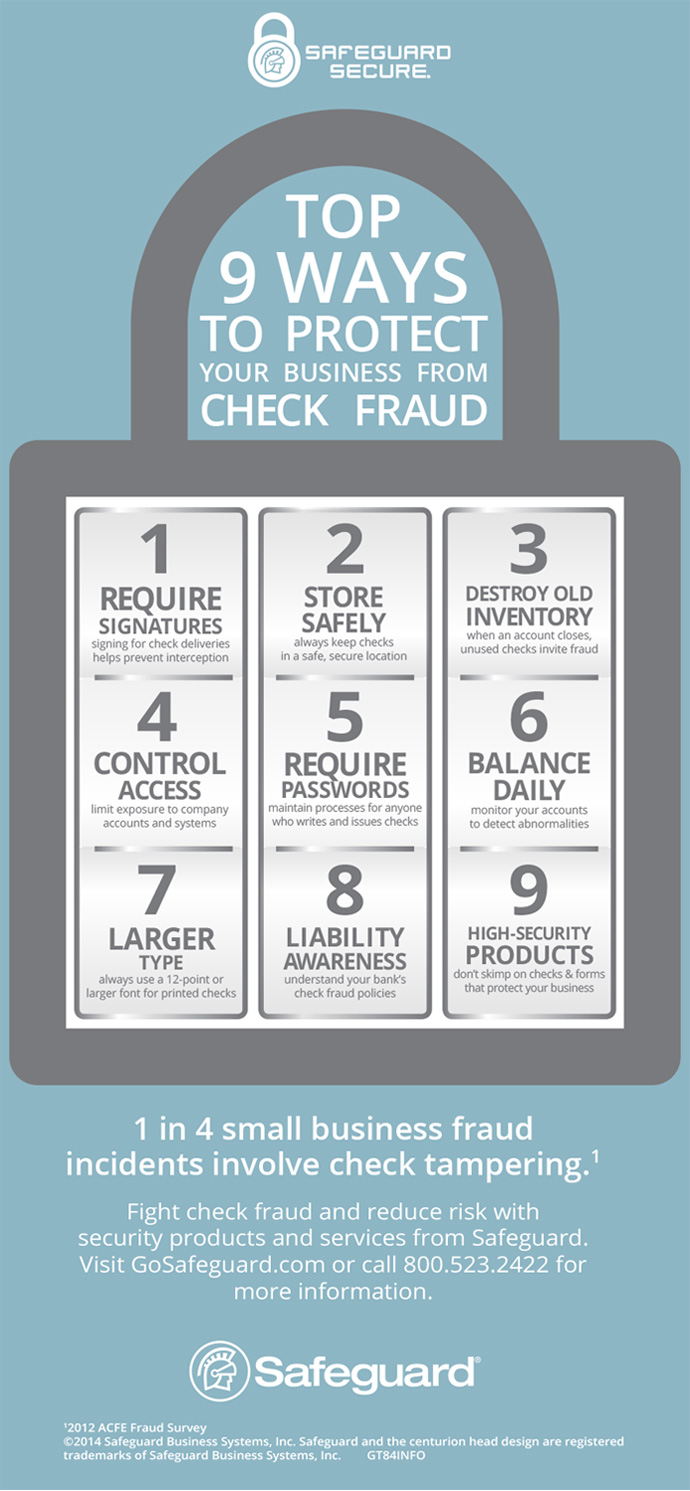 1The Association of Certified Fraud Examiners
2National Federation of Businesses
32013 Bank of the West Survey
4Association for Financial Professionals (AFP), 2012
Don't Forget Print, Your Best Marketing Ally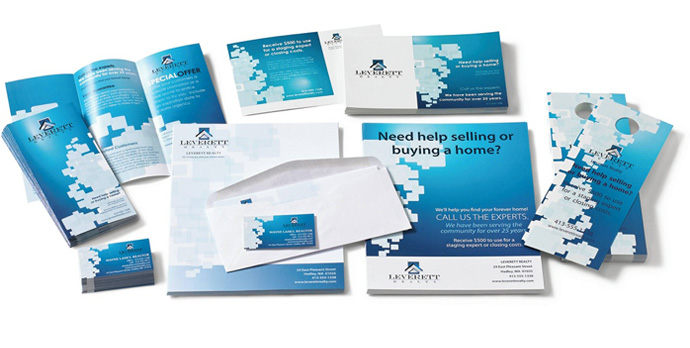 No doubt you're always looking for ways to bring in new customers. But when you consider all the marketing tools out there, it can be overwhelming to try and use the power of every available channel. Keeping up with the demands of Facebook, Twitter, LinkedIn, Pinterest and Instagram is a huge chore, especially if you're simultaneously maintaining a website, a blog and traditional marketing channels.
So much online discussion centers around social media marketing that it's easy to lose sight of tried-and-true marketing strategies. Print, for example, continues to be one of the most effective marketing strategies on the planet. Social media platforms are fine, but don't forget print. It can be your best marketing ally.
Print Marketing Works

There are a number of excellent reasons to take advantage of print marketing for your business. Consider the following statistics: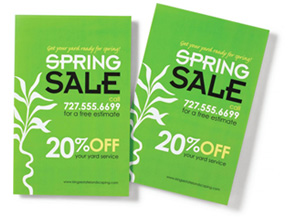 Many business owners like you already know print marketing works. In fact, a recent study found that they rank business cards as the second most effective customer engagement tool. (Most effective was word-of-mouth advertising — something you can't buy or control.)
Social media, search engine marketing and mobile marketing are all fine channels, but none of them can match the power of print. While your competitors are plowing tons of money into these newer strategies, you can deliver tangible print marketing materials directly to your customers without interference.
Prospects and customers can touch, feel and hold print marketing, while digital marketing is confined to a screen that limits its ability to get creative and command attention. When people see a product on a screen, they have no way to gauge its quality. Certainly, the same can be said of print marketing — but with one very important difference: people tend to equate the quality of a printed piece to the quality of your product. Something printed on thick, glossy stock will outperform lesser-quality pieces and screen-based marketing. The sense of touch plays a powerful role in customer perception.
Print marketing is so powerful because people read it, trust it, are influenced by it and respond to it. Print lets you reach out to prospects and customers in several different places, many of which your competitors are missing: at home, at work, in traffic, outdoors and more.
Types of Print Marketing

Here are just a few of the many ways you can harness the power of print:
Business cards can be handed to everyone you meet, plus they can be strategically placed in areas where prospects and customers will see them
Postcards, catalogs, brochures and sales letters can promote targeted offers to specific mailing lists for maximum response
Doorknob hangers, posters, flyers and banners can be distributed door-to-door and in customer hotspots as well as high-traffic areas — like busy intersections, community bulletin boards and sporting events — for maximum exposure
Booklets, magnets and calendars can serve as value-added takeaways or mailers your customers will keep around as handy references
Stickers can be placed in unique, creative areas other marketing materials can't go: vehicles, public spaces, even restrooms and ceilings
Greeting cards can help build customer relationships and invite customers to take advantage of VIP-only offers
Sales sheets clarify product benefits and showcase your unique selling points
In short, print marketing gives you options. You can choose the right medium to deliver your message, distribute that message to the right people, and control what they see, when they see it, and what they should do next. Print also lets you explore a wide range of marketing opportunities, and then fine-tune your marketing campaigns to perfectly match your business and customer base.
And with print, you don't have to rely on automatic tracking processes or complicated analytics to figure out whether or not your print marketing is working and earning money. All you have to do is include a coupon or code, specific website URL or custom phone number to track response. You also know exactly how much you're investing before you go to print, so you can directly measure your ROI based on how much money your print campaign generates less your initial investment.
What makes a good print marketing campaign?

Marketing is all about getting the right message to the right customers at the right time. Print marketing can help you do that more effectively than any other channel. As an example, here are a few tips for running a profitable direct-mail postcard marketing campaign:
Start by determining the goal of your campaign. What, exactly, do you want to achieve and how will you measure campaign success? Set campaign milestones.
Next, identify your target audience by demographic data: age, income, gender, hobbies, purchasing habits, geographic location, etc. Buy or rent a mailing list that meets your demographic criteria or use your own in-house list.
Develop a special time-limited offer that represents a great deal on something your recipients really want.
Write your sales copy and include a bold headline, list of benefits and a compelling call to action. Incorporate a tracking mechanism, such as a coupon or coupon code.
Create an attention-getting design that gets your copy read and helps persuade prospects to take immediate action.
Print your postcard on premium paper stock and send it to the people on your mailing list.
Track all responses and sales to determine your ultimate return on investment.
Compare your actual ROI to your goals.
If your campaign meets or exceeds your goals, you know you have a successful campaign that would probably yield similar results when sent to a similar mailing list. You also have a "control," which lets you make minor tweaks and test different variations against it to see if you can improve your campaign performance in subsequent mailings.
Finally, don't turn your back on digital marketing — it can still be a viable tool — but don't disregard print marketing, either. It's a powerful ally that provides profit-driving strategies to help you reach new customers more efficiently without all the clutter of competition.