Receiving Safeguard eChecks
There Is No Cost to Receive or Deposit Safeguard eChecks
Receiving ACH payments typically come with interchange fees ranging from 2%–4%. This is a high price to pay just to receive your money in a timely manner. With Safeguard eChecks, the receiver of the check pays NO additional fees.
Compare us to the competition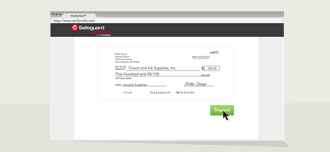 You Do Not Need a Safeguard eChecks Account to Receive Safeguard eChecks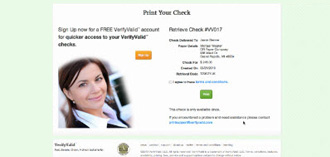 If you do not have an account with us, you can still receive eChecks. The check will be in a one-time view/print only PDF document. Simply open the PDF, print and deposit your check as you would any other check.

If you have a Safeguard eChecks account, you will receive all Safeguard eChecks payments in your lockbox. With the Virtual Lockbox service, you are able to view all of your payments in one centralized location. A simple "print checks" button allows you to have all of your payments at your fingertips, ready for deposit.
If You Have a Checking Account with One of Our Banking Partners
You will be able to receive Safeguard eChecks in your Virtual Lockbox and deposit them directly into your account simply by clicking the deposit button. This can all be done without ever printing the check, handling paper, or even leaving your seat. No more afternoons spent driving to the bank and waiting in long teller lines. Having a checking account with a Safeguard eChecks banking partner makes depositing your money faster and easier than ever before.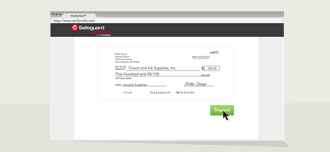 Automates Your Accounts Receivable Bookkeeping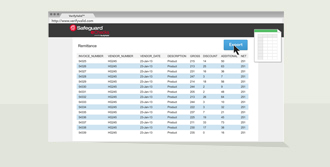 With Safeguard eChecks, you can easily export your payment file, with remittance information, directly from your Virtual Lockbox and upload it back into your current accounting system. Know exactly which invoices have been paid at a fraction of the time it takes to enter remittance data manually.
No Payee Banking Information
All other electronic payment methods today require you to sign up for that service or worse yet require the payor and his employees to have access to YOUR banking information. Safeguard eChecks uses the same information as paper checks (date, name and amount) and your email address. Your banking information stays secure and you still receive your payment within a matter of seconds – the best of both worlds!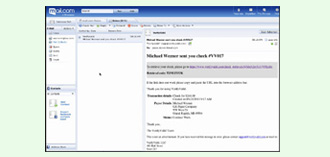 Safe, Secure Fraud Prevention

Safeguard's proprietary approach based on patented technology allows companies and banks to help reduce fraud by easily verifying the authenticity of checks. Customers and financial institutions using the Check Validation service can confirm at any time that an authorized Safeguard eCheck was created by a user of the system and that the item remains unaltered since creation. This service can assist in catching and stopping fraudulent checks before they enter the banking ecosystem.
Fast, Secure, Green and Easy!
Payee Service Level Options
Option 1:
eChecks without an account
Receive an echeck
Print PDF of check
Cut on dotted line
Deposit at Financial Institution like any other check
Fast Payment
Fraud Prevention
Full Remittance information
No interchange fees
No opening envelopes
Option 2:
eChecks with an account
Receive email notification
Login to your Safeguard eChecks account
Enter your Lockbox
Click "review" next to your received check
Print check
Cut on dotted line
Deposit at Financial Institution like any other check
Benefits of Option 1 Plus...
Download payments file for input into your accounting system
Receive all payments in one place
Option 3:
Integrated eChecks and bank account (available when banking with participating Financial Insitutions)
Receive email notification
Login to your Safeguard eChecks account
Enter your Lockbox
Select "deposit" next to your check to process directly with your Financial Institution
Benefits of Option 1 & 2 Plus...
Checks are immediately presented for deposit into your bank account
No paper
No extra trips to your Financial Institution
Reduction of Carbon Footprint