Paying with Safeguard eChecks
Sending Safeguard eChecks is fast, easy, and safe. Whether you write a couple of checks or thousands a month, it's simple. Just create an account with your business name and email address. Then add your checking account and financial institution's information.

With a few simple keystrokes, you can generate a check and deliver it securely and immediately via the web. Your payee receives a check that can be used wherever and whenever checks are accepted. And unlike technology advances that force users to change business processes or purchase new equipment, the Safeguard eChecks service is completely compatible with the way you operate today.

In fact, you can still send and receive checks using your existing accounting system and checking account.
Anyone Can Send or Receive Safeguard eChecks
Unlike many other online solutions, Safeguard does not require both the sender and recipient to sign up for the service or require you to know the banking information of the payee. This means that you can use eChecks to pay anyone who can cash or deposit a check.
Even in the unlikely event that one of your suppliers or vendors doesn't have an email address, you can still use Safeguard eChecks. Simply print it yourself and mail it the old fashioned way.
Compare us to the competition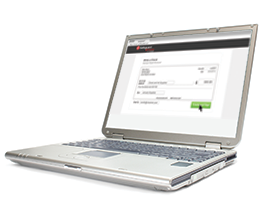 Saves Money
Safeguard eChecks are a sustainable, efficient, secure and economical way to send payments and can be used for all your business transactions. Safeguard eChecks are sent via the Internet so you eliminate envelopes, postage and paper costs, not to mention the occasional overnight fees for expedited payment.

In addition, current eCheck customers report a 70% reduction in the time it takes to process eChecks vs. paper checks. When combined with the hard materials costs, businesses can save an average of $1.00 per check with Safeguard eChecks. Over the course of a year the average business can save $1000's on business checks!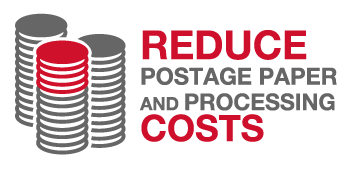 Efficient & Easy to Use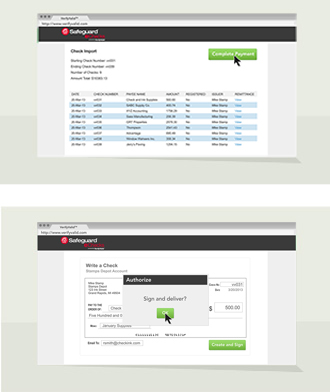 Safeguard eChecks is completely compatible with the way you operate today. Whether you are sending a few checks or importing a check run from your accounting software, Safeguard eChecks provide a fast, easy and efficient method to handle all of your accounts payables.

If you use accounting software, it's easy to create and send batch check runs (large or small) with Safeguard eChecks. Simply export a .CSV file from your accounting software that contains the email addresses and remittance data for the checks you want to send. Upload it to your account and with just a few clicks you can deliver any number of checks in just seconds.

If you don't use accounting software, no problem, you can still create any number of eChecks in just a few mouse clicks and deliver them in seconds not days. To send a single check just type in the recipients email address and remittance data and click "Send". To send multiple checks at once, enter the email addresses and remittance data for each payee, review the check run and click to "Authorize and Send".
State of the Art Fraud Prevention Technology
Safeguard's proprietary approach based on patented technology allows companies and banks to help reduce fraud by easily verifying the authenticity of checks. Customers and financial institutions using the Check Validation service can confirm at any time that an authorized Safeguard eCheck was created by a user of the system and that the item remains unaltered since creation. This service can assist in catching and stopping fraudulent checks before they enter the banking ecosystem.

Additional security features include checking account activation. Before your checking account can be activated, it must go through an authentication process using your financial institution's own secure remote access to ensure that you have ownership over the claimed account prior to your ability to write checks.
Organizational & Financial Controls
As the Administrator of your Safeguard eCheck account, you will be able to designate not only "who" in your company can log in to your account but also what levels of permission they have. For example, making someone a member of a checking account does not allow that person access to your user account. The only actions they will be able to perform within that checking account are those that you allowed for them when you set up their member status. Permission levels include various options such as: create checks, sign checks and many others. These permissions can be modified or deleted, by the Administrator at any time.