Check Offer
Help protect your business from fraud with every check you write.
Just one check fraud incident can cost your business thousands, not to mention your time and effort to restore lost funds. Think you're not a target? Think again. In 2016, 74% of organizations that experienced attempted or actual fraud were victims of check fraud.†
When it comes to this kind of crime, Safeguard premium secure checks are your best defense. For just a few pennies more per check, you'll get state-of-the-art security features, EZShield Premium, plus order and delivery protection. Premium Secure checks give you peace of mind and — for a limited time — free shipping.*

†2017 Association for Financial Professionals Payments Fraud & Control Survey

*Free Shipping on your first order of Premium Security checks. UPS Ground regular delivery for quantities up to and including 5,000. Not valid in combination with any other offer or on previously placed orders. Some restrictions apply. Offer expires soon.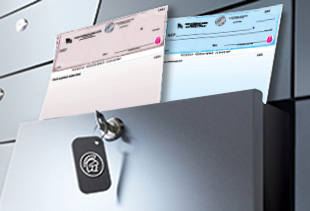 Upgrade now and save.FREE SHIPPING on your first order of Premium Secure checks.*
Please complete the following form so your consultant can contact you with details

(We don't share email addresses with any third parties. See our privacy policy.)